---
January 11th, 2012
---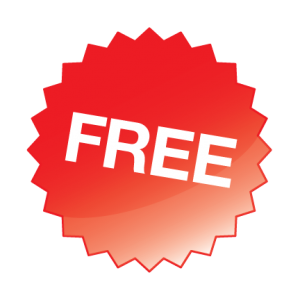 Some of you might have arrived here by doing a search in Google, Bing, or Yahoo for "Free Graphic Design" or "Free Logo Design" or something of the like. Before you leave this page, realizing that I will not offer you free work (beyond some Photoshop brushes and some vector rockets), please consider the following. Nothing is ever really, truly, 100% free.
I know it's cliché, but it is true, especially with graphic design. You might find someone online who will do design work for you for free, but in the end you might not be happy with what you get and you can't usually do anything about it. You will probably end up spending more time and, inevitably, more money getting what you want.
Don't misunderstand, I do believe there is a place for pro bono work. I have and will continue to do work for non-profits or those in the community who are in need. I also think that working for free might be necessary for some designers in order to build confidence in their work and give them some experience (although I think there are better ways to get these). But, like it or not, money is a great motivator, both for a client and a designer. Paying for design work makes it more personal for you and the designer. A designer worth their salt will be more invested in the project if they are getting paid (or if it's for a good cause they are passionate about). If you really care about something being done right you will pay for it.
Ponder this, if you needed a new transmission in your car you wouldn't go looking for a mechanic who will do it for free, you would want the best person for the job. You would want a mechanic who is good at replacing transmissions, is knowledgeable with the process and who you believe will do their best to get the results you want. Most likely, you would want someone who has had training or is certified to take apart your car and put it back together again. Granted, you might shop around for the best price, but you would still pay for it (unless you have a distant cousin who will do it for you in his front lawn in exchange for a case of cheap beer). Design work should be no different.
The bottom line is this: If you aren't paying for the design work you need, is it really that important to you? If you really think your project is important, are you sacrificing the image of your organization, your product, your message, or yourself by settling for free work?
I think another old cliché is true… you get what you pay for.
---
---
---
---
---
---
---